BRING ON THE TRUFFLES FOR A FANTASTIC, LIFTED EXPERIENCE
By Suzette Reese from East Coast Amsterdam
"It's sometimes so hard to predict," I murmured to Rhys one Friday night.
What's sometimes so hard to predict? An edible high.
It was another Friday night and time for my weekly Georgetown Kushcakes truffle tradition. Tonight, Milkshake.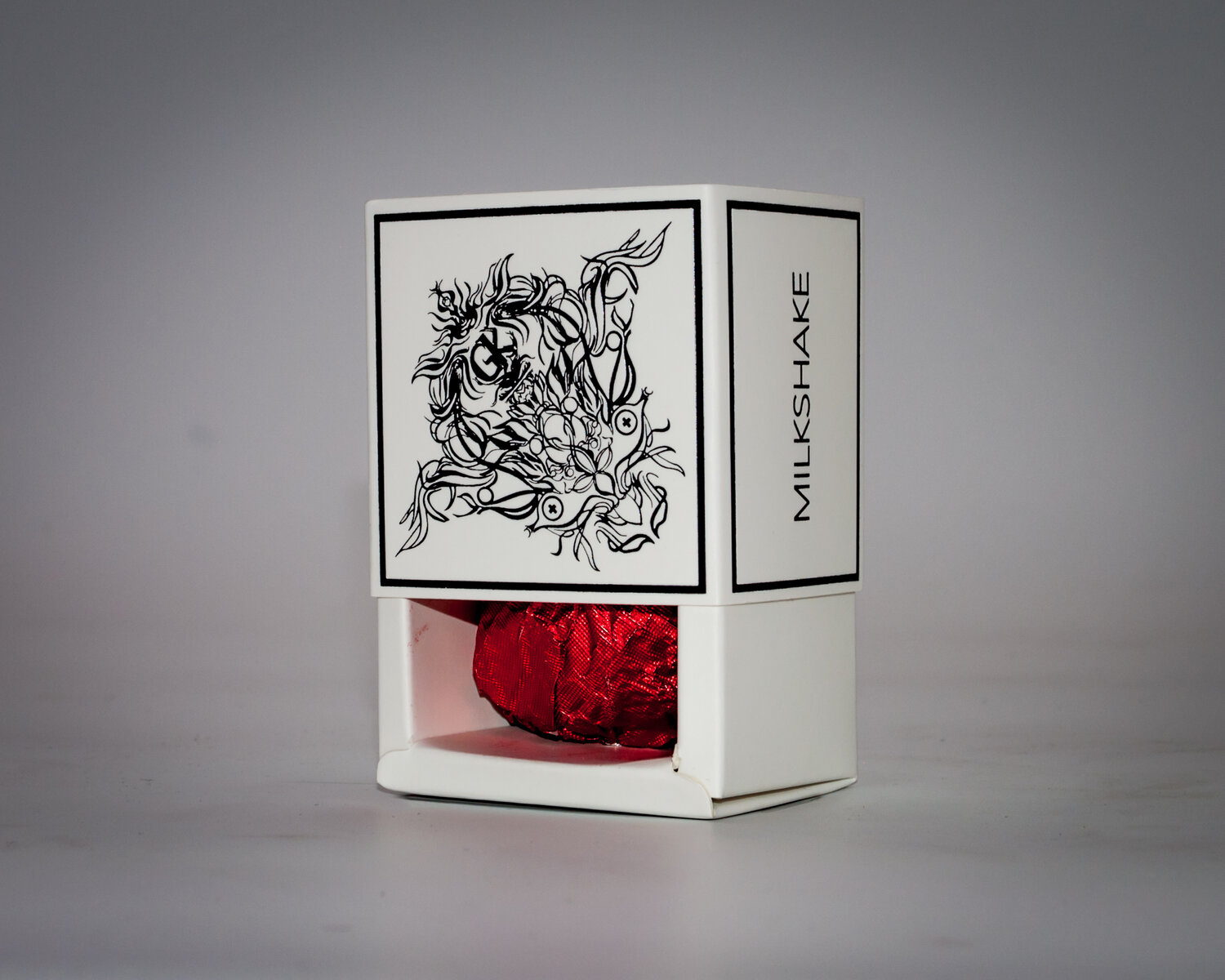 ELEGANT PACKAGING MATCHES THE PRODUCT INSIDE
The box containing the truffle was another elegant box to add to my set of "fidget toys." The box was an additional cornerstone, topped with the lovely GTKC logo, for my collection.
The GTKC truffle boxes are wonderful distractions when I should be paying attention to my Zoom meetings.
I think it was the simplicity of the design and quality of the packaging that entranced me so much that I couldn't discard them. I thought of them as mementos of that particular truffle and the Friday night festivities that invariably followed.
And then my fingers found them to be excellent fidget toys.
POTENT AND DELICIOUS, THESE ARE A TREAT
But what's inside the box is the real prize, and this Friday night was no exception.
The truffle is a thing of wonder. Think crushed Oreo cookies shaped into truffle sized balls with a thick white milk chocolate coating.
Creamy, smooth, delicious.
I enjoyed every bite of the sweet Milkshake truffle from Georgetown Kushcakes.
GO LOW, GO SLOW
I was committed to adhering to our edibles advice of going low and slow. I didn't succeed as I ate the entire truffle. All 200mg of THC. I did, however, take my time to savor each bite of this delectable treat. That should count for something.
Remember that in most regulated adult-use markets, a single dose is either 5mg or 10mg of THC.
This truffle, as tiny as it is, could be shared by four people.
But it's so delicious you'll want to eat the whole thing.
THE TIMING OF EDIBLES IMPACT IS DEPENDENT ON A NUMBER OF FACTORS
What I noticed this night was a difference in the timing of the onset of the impact. How long does it take before you realize in the moment that you are good and buzzed?
A truffle from Georgetown Kushcakes usually takes 90 minutes to hit. This night, it took longer.
The truffle itself hadn't changed, and the products from Georgetown Kushcakes are accurately marked with dosage, and the dosage is consistent from truffle to truffle and week to week. This is not the case with some edibles producers who don't take as much care in ensuring accurate measurements.
There is a consistency that helps in pacing and predicting how things might go.
This particular Friday night, the impact was a full hour later.
What changes how long the impact takes? A variety of factors including what I've eaten recently or since the edibles ingestion, my mental state, the time of day. You can regulate your high; here's Oliver Stack's take on regulating your edibles high.
Oliver notes that fat in food can slow down the uptake of THC in the digestive track. I guess that Hawaiian pizza might have slowed things down.
THE HIGH MAY HAVE BEEN LATE, BUT IT HIT HARD WHEN IT CAME
It took awhile, but when it came creeping up on me, I was ready for fun.
THE LATE ARRIVING HIGH WASN'T THE ONLY TIMING OFF
I was full in the experience of the high, when I was interrupted by a rumble.
Rhys snored. We generally try to align our Friday night escapades, but our timing was way off that evening.
I covered Rhys with his favorite yellow blanket, and happily carried on with the important business of scrolling on my phone.
You truly can't go wrong with any of the products from Georgetown Kushcakes. Go low and slow.
GET YOUR GEORGETOWN KUSHCAKES PRODUCTS TODAY!
Georgetown Kushcakes products are available in the Washington DC Initiative 71 adult-use marketplace.
You can buy a tee-shirt at All The Buzz and walk out with Georgetown Kushcakes products. All The Buzz is an Initative 71 tee-shirt shop located at 3232 Georgia Avenue NW. They are open every day of the week from 10am to 9pm.
If you prefer delivery, try Sugar Ray's. Buy a collectible trading card, and they will share Georgetown Kushcakes. Sugar Ray's delivers throughout Washington and is Initiative 71 compliant. No deliveries on federally controlled land within the District.